Important Customer Information
The following is list materials and objects that have been deemed HAZARDOUS by the Environmental Agency and May Not be placed into your container without prior arrangement with Reading Recycling.
Asbestos

Batteries

Adhesives

Food Waste

Tyres

Mattress

Fridges

Fuel

Toners

Gas Bottles

Liquid Chemicals

Computers

Fuel Filters

Thinners

Resins

Photo Chemicals

TV Screens

Oil Filters

Paint

Explosives

Animal By-products

Computer Monitors

Oil and Lubricants

Cleaning Chemicals

Used Absorbents

Contaminated Soils
If you are unsure if your materials are deemed hazardous, please call us on 0118 9431613 where we will be happy to assist you.
Skip Hire term 1 day to 14 days, £5 per day thereafter. Charges apply for hazardous materials.
Damage to Driveways
Customers should be aware that damage could occur when they instruct vehicles to leave the public pathway. The most common problems are:
It is unlikely that private driveways are constructed to take the weight pf a laden skip lorry so there is a probability that damage could occur when the loaded skip is collected.
Access to domestic property is not normaly of a width to allow easy access for a large vehicle, therefore when manoeuvring some damage could occur to property ( gate piers, manhole covers, etc.)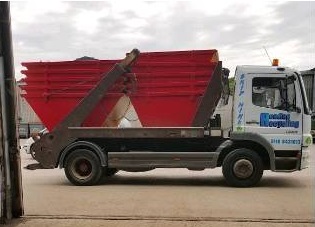 Although our employees will take every precaution to avoid any damage, the company will not accept liability for any damage caused when delivering or collecting containers which are not on the public highway.
Bag Sizes: 1 yd, 1.5 yd,2 yd
Skip sizes: 2 yd, 3 yd,4 yd,5 yd,6 yd,8 yd,10 yd,12 yd.
Warning
This skip will not be removed if loaded above the sides .Please email or phone when loaded.